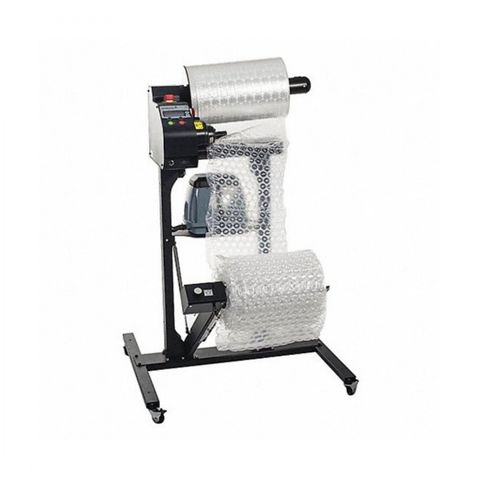 IB EXPRESS FILM
Description
SAVE VALUABLE FLOOR SPACE
The NewAir I.B.® Express systems compact design fits comfortably on a tabletop, or can be mounted on a table-side stand. A single film roll can equal 5,000 square feet of traditional ½ inch bubble material, creating on-demand packaging that saves valuable storage space, reduces material handling, and decreases transportation costs.
The NewAir I.B.® Express inflatable cushioning system from Sealed Air quickly produces inflatable cushioning, in 400mm and 800mm film widths.
DAMAGE REDUCTION
• Protect better with 30%+ more protection than competitive bubble.
• Protect longer with best-in-class Barrier Bubble air retention.
• Protect stronger with specially designed bubbles that don't pop on impact.

CUBE OPTIMIZATION
• Reduce the use of excess materials with more stretch than competitive bubble.
• Reduce the size of packages without sacrificing protection.
• Reduce the amount shipping and storage space needed.

FULFILLMENT VELOCITY
• Minimize material usage, decreasing pack time and increasing throughput.
• Minimize material handling time and change overs.
• Minimize downtime with equipment proven to maximize throughput with on-demand, easy-to-use inflation.

CUSTOMER EXPERIENCE
• Create less waste by avoiding messy, excessive wraps and void fill.
• Create neat, attractive packages that showcase products with exceptional clarity.
CUSHION CURVE
Cushion curves illustrate the anticipated protection levels available for different material thicknesses at various drop heights. The measurements are used to compare material performance or to design cost effective packages that protect a product from mechanical shock. The curve data shown on the right was obtained from tests run in accordance with ASTM D4168. This in-package test
simulates actual cushioning response under use conditions. Caution should be used when comparing cushioning data developed from procedures other than this specific test.
• Bubble Wrap IB was suitable for the replacement of competitive bubble when evaluating the cushioning performance of the package system.
• Bubble Wrap IB provides far superior protection (cushion performance) as compared to any of the three competitive materials evaluated. A 30%+ increase in cushion performance is gained by using Bubble Wrap IB.