Home

/

SIAT GT-H FRICT WELD TOOL PET HT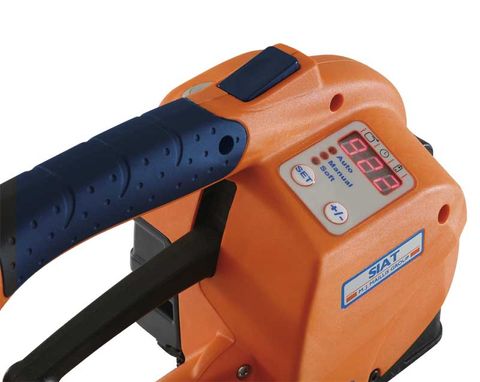 SIAT GT-H FRICT WELD TOOL PET HT
Price:
$3,600.00 (ex GST)
Description
The Quickest Way To Strap And Secure Multiple Packages With One Finger And Just A Few Seconds...
The Siat GT-H is a high tension, handheld strapping tool that drives efficient strapping with a superlative suite of features to make the job faster, easier and even a little more fun.
The Siat GT-H battery is notable for its competitive tension levels, which allow operators to apply tension up to a maximum of 4500 N with next to no effort, covering as much as 9 metres a minute efficiently at the push of a button in automatic mode.
In addition to its superior tensioning capacity, the GT-H offers a host of customization options to suit the packaging job in hand. It can handle straps from 0.8mm up to 1.30mm thickness and 19mm to 25mm width with a simple adjustment.
The digital display allows for easy switching between the three modes: automatic, semi-automatic, and manual, giving operators the option of full control when needed. In addition to its high tension normal mode, there is also a soft mode for secure packaging of fragile materials.
All this power is packed into a stylish 4kg body that has been engineered for comfort in use. With a centralized point of gravity, the GT-H offers stability in both vertical and horizontal positions, while the long-lasting lithium battery allows for longer operating times for added efficiency.
The Bosch brush-less motor which drives the whole operation offers a longer life than competitors alongside lower maintenance costs as compared to brush motors, letting operators tension, cut and weld straps for longer.
Designed in and manufactured in Italy to stringent European Union guidelines, this powerful strapping tool offers a comprehensive packing solution for all storage and transport needs.